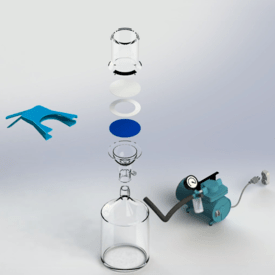 If the goal of your vacuum filtration is purification using a membrane with an absolute pore size, Sterlitech recommends utilizing glass filter holder assemblies. Compared to Buchner funnels, these systems create a tight seal to prevent liquid bypass around the membrane. Without this seal, the benefit of a highly retentive membrane disappears.
It is typical to experience some leaking in many vacuum filtration applications, but minimizing this will significantly improve yield. There are a few ways to ensure optimal sealing, including proper set-up of the apparatus and running under the manufacturer's recommended conditions.
To illustrate this, we ran trial liquid filtration on our 150 mm assembly with improper gasket placement (below support) and compared it to filtration with proper gasket placement (on top of support). Membrane filters should be placed on top of the gasket to achieve vacuum seal. Please view the video below to see the difference gasket placement can make in vacuum assembly performance.
Please feel free to reach out with any questions or concerns on best practices for vacuum filtration.