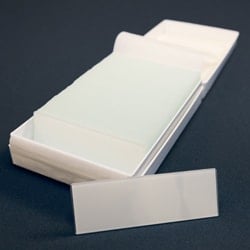 Cytoclear Glass Slides have been discontinued by the manufacturer due to lack of commercial interest, and are no longer available for purchase. These slides were previously used to enhance microscopic visualization with PCTE and PETE membrane filters, using a special light diffusing coating that significantly reduces the appearance of the pore edges by minimizing pore edge shadows.
If you are looking for alternative solutions to enable improved microscopic work, Sterlitech recommends wetting the membrane with a liquid that has the correct refractive index and illuminating the membrane with polarized light. For example, the PCTE membrane is birefringent and has two refractive indices, 1.584 and 1.625. To minimize the appearance of pore edges, this membrane should be wetted with a fluid that has a refractive index of 1.584 and illuminated with properly-oriented polarized light.
Please contact us if you have any questions. To view our other membrane accessories, please visit https://www.sterlitech.com/filter-accessories.html/.