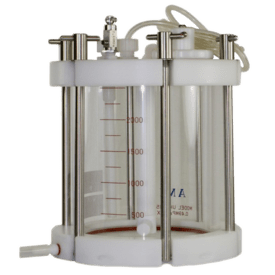 Sterlitech now offers our full range of microfiltration and ultrafiltration flat sheet membranes cut in disk sizes compatible with our polymeric stirred cells. These include membranes from SUEZ (GE Osmonics), Synder Filtration, and Microdyn Nadir. These discs are available in 25, 43, 62, 76, 90, and 150 mm diameters.
Disk filters in combination with the low-pressure polymeric stirred cells can be used as a fast and easy method for a wide variety of filtration/separation applications, such as performing filtration of fluids with heavy particle loads or concentrating biological components and macrosolutes (DNA, RNA, protein, etc.). Other examples of applications for low-pressure filtration include cell harvesting, diafiltration, lysate clarification, and suspended solids removal. Additionally, mechanical stirring mechanism minimizes concentration polarization and membrane fouling while operating at high permeate flow rates and recovery.
Our technical sales representatives are happy to aid with membrane selection and process development - please consult with us about your stirred cell application projects!